/ Berichte, SNI INSight
tunBasel – Great for children and young people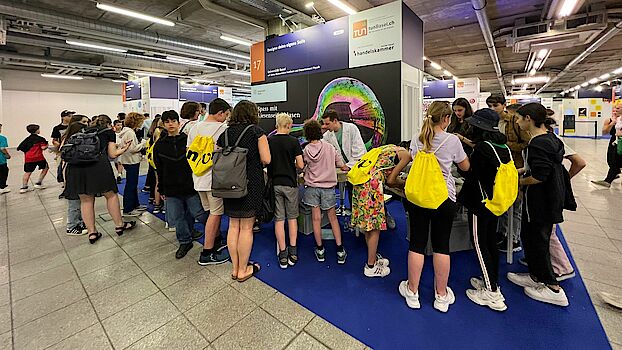 The children at the SNI/Physics booth poured more than 2800 bars of soap. The team from the SNI and the Department of Physics also consumed 80 liters of soap suds for beautiful and fancy soap bubbles. (Image: C. Möller, SNI)
May 2022 saw the return of tunBasel after a two-year hiatus, offering children and young people the chance to experience natural sciences and technology for themselves by taking part in numerous activities.
Together with the Department of Physics, the SNI also participated in this year's tunBasel by organizing entertaining activities relating to soap. With handwashing and hygiene on everyone's minds in recent months, what better way to express your creativity than by designing your own soap and experimenting with blowing some very unusual bubbles?
Many children and young people took advantage of this offer at the University of Basel's stand. They poured more than 33.5 kg of soap and refined it with a selection of fragrances and colors.
Further information:
Web page tunBasel
https://tunbasel.ch/experimente/338/
Impressions from the SNI booth
https://youtu.be/2zrXBCO_yIg
Video SNI experiments
https://www.youtube.com/watch?v=bTNlHnnv98I&t=5s